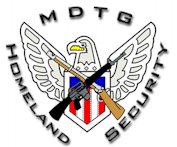 In this day and time, technological advancements are at the forefront. As our society advances, so do the skills and abilities of those who would choose to break the law. That is why it's important to stay ahead with cutting edge technology and integrate it into your equipment and training. When considering self-defense and security tactics, you need a company that provides a wide range of training and a fully integrated technology staff that can help prepare your security personnel for the various situations they may encounter while in the course of their duties. MDTG offers tactical training and equipment design exclusively for all government agencies, military personnel, peace officers (all branches), as well as corporate and VIP security personnel, jailors, and riot teams.
This department of MDTG is called the Defensive Tactics & Technology Group.
Partner With Us!
As criminal and terrorist related groups become more complex and sophisticated, the need for more technology in tactical situations are required.
MDTG is in the business of developing custom technology through seamless integration of technical disciplines. Over the years, our personnel have developed their own multiple disciplined backgrounds that attribute to the capabilities we have today. This multifaceted experience is what, by nature, most easily lends itself to non-typical thinking or "out-of-the-box" thinking. This, in many cases, leads to unique and effective solutions.
Our goal is to prepare you tactically in order to make your missions successful. We want to supply you with the physical skills and dependable equipment to ensure a desirable outcome. It is our hope that you will call on MDTG. With our training and effective integration of cutting edge technology and equipment, your personnel can add to their current abilities and gain additional confidence in completing their tasks.

MDTG provides tactical training to aid you in engaging hostile opposition in a safe and efficient manner. Our instructors have a broad scope of training and experience. They have their own unique expertise to help create a complete package for your specific needs.
Our techniques are taken from various styles and tactics deployed by many police departments and SWAT teams across the nation. Our mission is to provide the tools trainees require to safely and successfully complete their objectives. It is our desire to instill confidence and proficiency in each student.
We can provide solutions in:
• High Risk Warrant Service
• Barricaded Suspects
• Hostage Rescue
• Hand-to-Hand Combat
• Extraordinary/Rapid Deployment
• VIP/Dignitary Protection
• High Risk Prisoner Transport
• Court Security/High-risk Trials
• Civil Disturbances
• Jail Riots
• Man Tracking (Escapees)